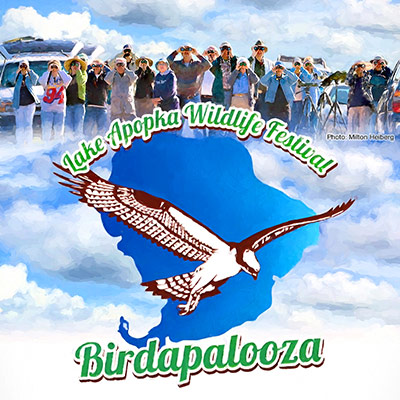 The Lake Apopka Wildlife Festival & Birdapalooza, based out of Magnolia Park in Apopka, FL is a free family-oriented festival, now in its 6th year. This year the free family festival, introducing families to birding and the wonders of the Lake Apopka North Shore, will be held January 20, 2018 from 9 a.m. to 4 p.m.
Orange Audubon Society is again hosting a Birding Festival wrapped around Birdapalooza. On Friday, January 19th and Sunday January 21st, enjoy field trips on and around the Lake Apopka North Shore led by professional birders and local experts.
Trips will search for recently sighted rarities, and as many of the 369+ bird species documented on the Lake Apopka North Shore as possible. Invited keynote speaker is none other than Greg Miller of The Big Year fame, who will also lead field trips. Other keynote speakers and celebrity field trip leaders will be announced by November. The full festival schedule and registration link will be posted on www.orangeaudubonfl.org/birdapalooza.